Competition Smart City Awards
Award ceremony 31'st May 2023
At the first day of the Smart City Forum,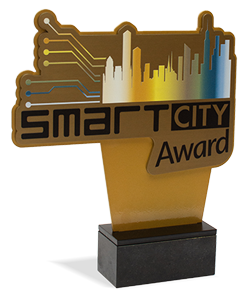 an independent Juryconsisting of well-known figures in the industry will reward the winners of the Smart City Awards Competition.
The purpose of the competition is to give recognition to individuals and projects that significantly contributed to the promotion of solutions aimed at constructing smart cities and towns in Poland as well as to popularize cities and towns implementing such solutions. Awards will be granted to representatives of both the business sector and self-government administration who, by their projects in which they applied innovative management solutions and strategies, contribute to increasing competitiveness of Polish cities and towns, economy and business.